Security Lighting Installation
Pavey Electricals have a five star reputation as being one of the best lighting installation services throughout Kent and surrounding areas. We work with you to ensure you get the security lighting that you need. Our electricians install security lighting for either in your outdoor front or rear garden and on commercial properties.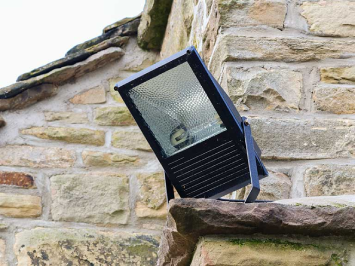 Floodlights
Motion-activated lights
High-Intensity Discharge (HID)
Exterior Soffit Lights
Outdoor Coach Lights
Commercial Properties
Domestic Properties
Accredited Electricians
Fully licensed & insured
Rated 5/5 on Google & Checkatrade
Getting security lighting offers a range of benefits. Having security lighting with motion activated lights will show when movement appears in your rear garden. These can detract thieves from potential break ins during late/early hours. Security lighting can also defer animals from coming close to your garden area such as foxes.Feel safe and secure today by installing security lighting throughout your back-garden and sleep comfortably.
Security Lighting Replacement
If your property already has security lighting installed but it appears faulty or does not work correctly, you'll likely need a security lighting replacement service. Our electricians can identify the issue with your faulty security lights and offer to replace these or potentially upgrade to a better model if you prefer. Regardless of your security lighting needs, Pavey Electricals has the electricians, knowledge and equipment to tackle any issue you have.
If you are not looking for security lighting services, Pavey Electricals Ltd also provides various other electrical lighting installation and replacement services. Take a look at all of the different types of lighting services we provide or speak to one of our experts today.


Pavey Electricals maintain a five star reputation on Checkatrade and Google
Contact us today for free estimates for any electrical work.
CALL US TODAY