What is emergency lighting?
Emergency lighting is the lighting which comes on in the event of a mains power failure. The lights are powered by rechargeable backup batteries which will be located in the light itself or in a central location, wired to each emergency light. For emergency lighting, it can be broken down into two forms: escape lighting and standby lighting. Standby lighting is used to help standard work continue in the event of a power cut and is not a legal requirement and does not need much coverage.
What is emergency escape lighting?
Emergency escape lighting will turn on automatically during failure of the mains power, and its purpose is to provide directions and/or instructions to occupants and visitors to allow for the safe evacuation of the premise.
Emergency escape lighting can also be sub-divided:
– Open area lighting
– Escape route lighting
– High-risk task lighting (this is to allow dangerous processes to be shut down)
Most buildings now have a legal requirement to install emergency lighting in case a blackout or an emergency occurs. The lighting is often installed in high occupancy buildings such as flats, university dorms, commercial buildings etc. This is following British standards guidelines 5266-1:2011 demand that residential schools, hospitals, hotels, clubs, offices and shops all come equipped with sufficient emergency lighting.
Where should emergency lighting be located?
Inside the buildings and properties, emergency escape lighting should be located in all common areas and escape routes. Escape routes should be adequately lit and able to assist in directing people of the building during dangerous situations. Regulations also claim that any open area which is bigger than 60 square metres should also have emergency lighting installed. It is crucial when it comes to avoiding accidents as, during dangerous times, there is a high level of panic, increasing the chance of a fatality.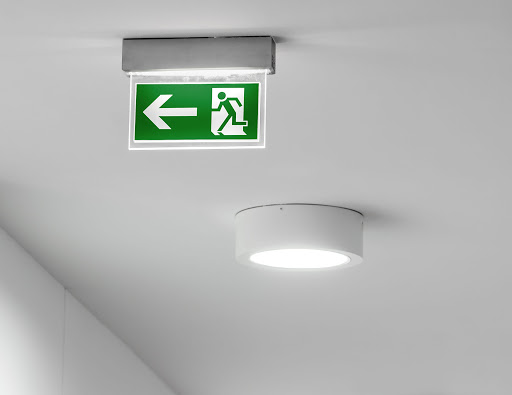 Regulations also state that emergency escape lights must be fitted within 2 metres in the horizontal distance above a fire alarm. In some cases, emergency lighting is provided so that the safety of the people working in a potentially fatal environment is enhanced to allow them to perform their job as best as possible.
It is, however, essential to note that different buildings will require different emergency lighting requirements. The requirements will be assessed once the building is evaluated for electrical safety regulation. Different needs could be practised such as, how long should the emergency lighting stay on for as many buildings require 3 hours minimum, but some properties require more.
What about rented properties?
Single occupancy houses and HMOs up to two storeys only require conventional lighting, whereas three and four storeys may require emergency lighting, depending on the layout.
Two, three or four storey houses converted to self-contained flats require conventional lighting as well as emergency lighting if the safety assessment deems it as necessary.
If you're concerned about the lighting in your property, contact a qualified electrician today, and they'll guide you through what you'll need depending on the type of building it is.
---
Tags:
emergency lighting
Escape route lighting
high risk lighting
HMO
---