So, summer has just arrived, and you've decided to treat yourself to brand new hot tub! The only problem is, you have no idea what it takes to install a hot tub. All you know is that water and electricity are not friends. Luckily, we have listed the electrical requirements you'll need, so you can relax in your new hot tub without a worry in the world.
To start with, there are two primary schools of thought you need to consider before purchasing your hot tub. Firstly, the power supply from your home will dictate how much output you are capable of running, which will help you find out what options you can get. And secondly, the power supply must be transferred to the hot tub; therefore, you must be careful where the hot tub is going in your garden.
Why is it so important to get the hot tub power supply right?
There are two main reasons as to why you want the power supply to the hot tub to be correct.
To make sure it has enough energy to fully power the hot tub and make it fully functional
To make sure it meets safety standards
Hot tubs can require different levels of power and very much depends on how much electricity they need, for example, a larger hot tub will clearly need to use more energy as it has more water to heat and that's not including the pumps and lights.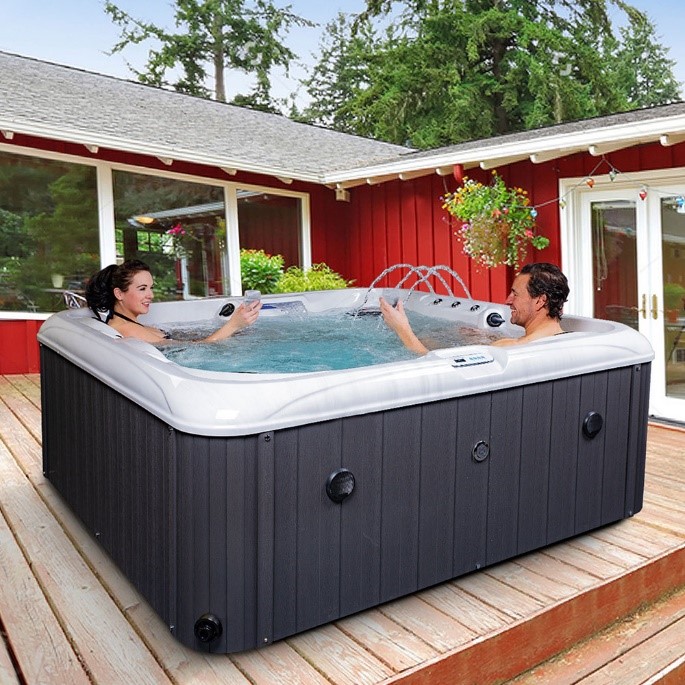 If the right amp of electrical supply isn't installed for your hot tub, then too much power may be withdrawn, causing your circuit to overload. When this happens, the fuseboard will trip, and your hot tub will switch off.
Furthermore, ensuring you have installed the right electrical supply for the hot tub will meet safety regulations.
What power supply do I need for my hot tub?
The level of supply you'll need for your hot tub can very much depend on what make and model you go for. The same way cars can vary with how much fuel they can take to fill up the tank. So, it's something you'll need to find what from where you bought/ buying the hot tub from.
A lot plug and play hot tubs will use a 13 amp or 16 amp supply of electricity and with the 13 amp model, they usually have the plugs attached to them so you can easily just plug it straight into a wall socket. However, most hot tubs will require a 32 amp or 40 amp level of supply.
Should I get an electrician to install my hot tub?
Before you install your hot tub, you will need to have the right channel of electricity running from your house, to where you want the hot tub to be placed. To have this carried out in a safe and according manner, you will need to have a certified electrician perform this job. They will follow the correct safety electrical requirement for the installation.
Speak to our hot tub experts on 020 8194 5969 and arrange your free hot tub installation survey to see how we can help.
---
Tags:
hot tub power supply
hot tubs installation
jaccuzi install requirements
---