What is a fuse board?
To put it in Layman's terms, the fuseboard is the electrical unit which acts as the middleman between the electrical supply company and the electrical circuits in your home. Also known as the mains fuse box and electricity board, your fuseboard is pretty much in charge of all the electricity your home receives and distributes to your appliances.
One of the most essential parts of your fuseboard is the RCD which stands for Residual Current Devices. The reason an RCD is considered so important is that it is responsible for saving lives. This is because it cuts off electricity when it detects a fault with an electrical appliance or if skin contact is made with a live wire.
For this reason alone, it is vital to make sure your fuseboard is in proper working order and has had a qualified electrician to give it their stamp of approval.
If you are concerned that your fuseboard is outdated and unsafe, then it's worthwhile to check that it is still safe to use. Below we have listed some signs to look out for.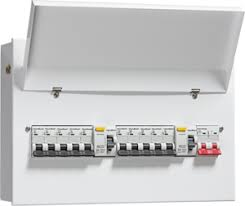 Signs of a failing fuse board
Fuses continuously burn out: If you have lived in your home for long enough, then you should have a good understanding of how often fuses burn out. If your fuses begin to fail more regularly, and for reasons which never created issues before; then it could be a sign that you need to update your fuseboard and should contact a qualified electrician immediately to investigate. The electrician will be able to identify any faults with the fuseboard or whether the circuits are being overloaded via the number of electrical appliances running in your home. With older houses, it is often recommended to install newer fuse boards and high capacity wiring.
Loose fuses: Another sign of a failing fuseboard could be the appearance of individual fuses becoming loose or worse yet, continuously falling out. This could be because the terminals of the panel are damaged. A damaged terminal with loose fuses can create problems such as intermittent power loss which can become a real hinderance.
Poor wiring: Fuse boards take on lots of maintenance work in their lifespan, and the more amount of work is done to it, the higher the chances of poor wiring occurring. This can become a severe threat as poor wiring can lead to electrical fires.

The smell of Acrid: One of the most noticeable signs that your fuseboard needs replacing is by the smell of acrid, and if it occurs, can be extremely dangerous. The danger comes from the fact that fires can erupt from the fuseboard itself. If this is the case, you should immediately turn the power off and contact an electrician as soon as possible.
Flickering of lights: If you find light bulbs around the house begin to flicker or wall sockets become unresponsive, then it may be a sign that your fuseboard is starting to deteriorate as connections are becoming weak.
Over 10 years of age: If your fuseboard was installed longer than 10 years ago, then you should contact a qualified electrician to inspect the product for any signs of deterioration.
If you are experiencing issues with your fuse board or aren't sure whether your fuse board/consumer unit is in good working condition, speak to our experts today or find out more by visiting our fuse board services page.
---
Tags:
acrid smell
flickering lights
fuse board failing signs
loose fuses
poor wiring
---