Faulty wiring
One of the most common threats to the safety of a household is old and faulty wiring. This is mainly because poor wiring is one of the greatest risks of power surges, fires and other dangerous outcomes. Therefore, we recommend to people to avoid conducting any wiring work themselves and to contact a qualified electrician in Bexleyheath to carry out these jobs.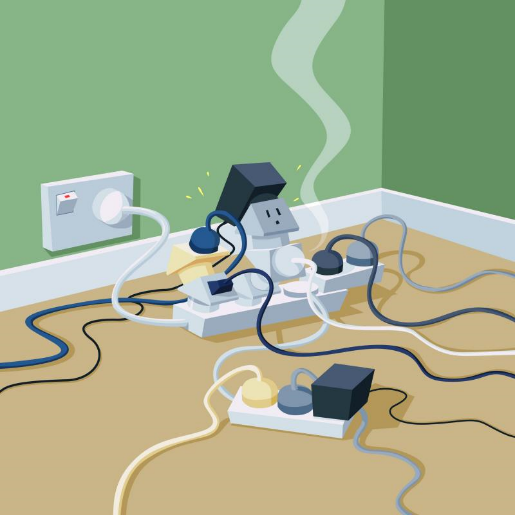 Extension cords
Extension cords can lead to serious risk when used for long term and when cords haven't been fully extended (untangled). This is due to the fact cables close together can lead to overheating therefore leading to dangerous consequences. The same theory applies to multi extension cables. Should you have any concerns regarding your cords, please contact a qualified electrician.
Wet Hands
It is common knowledge that electricity and water do not mix. However, how many times have you grabbed the hairdryer when in a rush, when having wet hands? This can hugely increase your chances of receiving an electric shock which is why it is important to keep yourself and your appliances dry, especially when in use. The same theory applies with sweat and any form of liquid.
Uncovered electrical sockets
Electrical sockets which are uncovered at knee height or lower, can be incredibly dangerous especially for young children. All it could take, is a curious poke from a child which can lead to an electric shock; which at a young age can have fatal outcomes. If you are unsure of the safety of your sockets, we advise you contact a qualified electrician to install electrical sockets.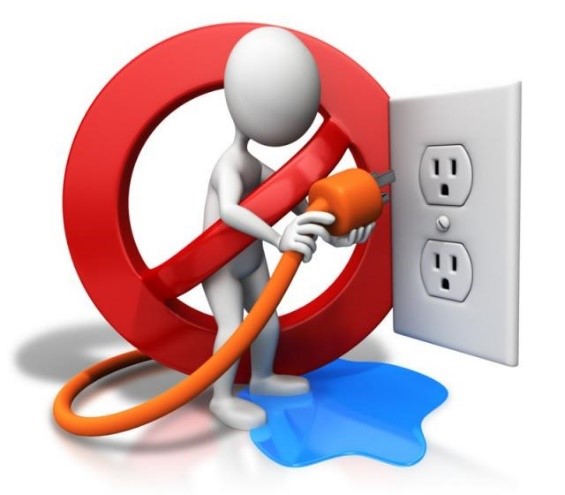 Electrical outlets close to water
It is important that rooms with water (such as kitchens and bathrooms) are fitted with electrical outputs a certain distance away from the water source. This is to reduce chances of receiving an electrical shock which is why it is vital to not use any electrical devices around a wet floor or water in general.
Pouring water onto an electrical fire
A common mistake people make when an electrical fire erupts within a home, is their first idea is to pour water in order to deplete the flame. However, this will do the exact opposite and fuel the fire, potentially causing you to receive an electric shock. In this scenario you should only use a fire extinguisher or evacuate the premise and contact the fire brigade immediately.
Lightbulbs
Lightbulbs themselves are not dangerous as such. However, they do generate heat which in return can cause a danger hazard when placed near flammable products. These may include bed linen, curtains, certain types of clothes etc. There are also safety measures which should be taken when replacing the bulb itself. Firstly, make sure the power is switched off prior. Keep hands dry, and make sure your new bulb has the correct amount of wattage.
---
Tags:
Electrical Hazards
Faulty Wiring
poor wiring
---