It will come as no surprise to you, that one of the most efficient and effective ways you can protect your home, is by installing security lights outside your property. Security lighting was primarily used for industrial and retail buildings; however, more and more homeowners are realising the benefits to the security and safety of your home and household. Although there are other and perhaps more fierce alternatives such as alarm systems; security lighting has been proved to be not only cost-effective but enough to act as a deterrent to potential burglars.
If you're debating the idea of installing security lighting, see below where we have listed a handful of benefits you can gain by adding this feature to your property.
Gives you peace of mind
One of the most obvious benefits you will gain from having security lighting installed to your house is the peace of mind you gain from it. Whether you are trying to go to sleep or whether you are out for the night; being comfortable in the knowledge that your house has a fully functioning deterrent, can make the initial cost seem like a small investment.
External lighting deters unwelcomed guests
The external lighting can help act a deterrent to not only people but to hindering animals too. If you have a problem with animals in your garden such as foxes and rats, motion sensor lights can help deter them by frightening them away. Keeping your garden in pristine condition.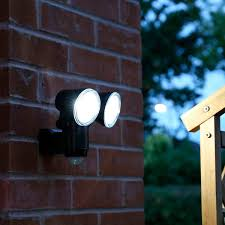 Can reduce insurance
Statistically, it is proven that homes fitted with security lighting has lower number of insurance claims from robberies and burglaries. This means that installing the light will allow insurance companies to offer you cheaper insurance premiums. The same concept applies to smoke and fire alarms as a way to reduce insurance.
Can prevent injury from yourself
Installing security lighting can also prevent you from tripping over plant pots and external bins lying outside of your property. Not only this, but the additional light can also help when finding your keys and unlocking your door…. Especially after a long night.
Enhance your property's image
Installing external lighting can also help promote the image of your house as well as acting a deterrent to burglars. It can help to create welcoming presence to family members and guests upon arrival to your home.
LED lights can help save energy and money
You can always opt for LED security lights which are great energy saver in comparison to standard lights. Not only that but LEDs last much longer than traditional light bulbs while producing roughly the same amount of light (depending on what model you go for). It can also make the areas around your property look more attractive. This is because, with LEDs, you can use smaller lights scattered as opposed to one great big light, which can help to bring out the darker, hidden spots.
For information on how you can utilise security lights for maximum protection click here for a Government document covering all the details and companies used to promote security.
If you are looking at different security or outdoor lighting, our experts can offer no obligation advice with our best recommendations.
---
Tags:
External Lighting
LED Lights
Outside Lighting
Security Lighting
---