1. Electricians must pass a colour code test
Remember the famous films with the ticking time bomb? And the main character is sweating and panicking, asking "which wire do I cut!?" Well for electricians, it is no different. Maybe not as drastic, however, it is still vital for the job role that electricians can identify colours without any problem at all. This means electricians must pass a colour test. If this were not the case, electricians could make fatal errors in their day to day work.
2. Many famous celebrities, began as electricians
Although not a lot of people know this hidden gem of information, but Elvis Presley had begun his career as an electrician. This is what stemmed the worldwide phenomenon to give the famous quote 'I suppose I just got rewired the wrong way round somewhere along the line.' Not only Presley, but comical British legend, Rowan Atkinson has a master's degree in electrical engineering from Oxford. Soon after graduating, Rowan turned his efforts instead into writing and screenplays and never looked back. So, you can be safe in the knowledge that Mr Bean will never be rewiring your house. Many other famous celebrities such as Sir David Jason, Sir Bobby Charlton and even Albert Einstein, began their careers in electrics.
3. Electricians are becoming green
Many household appliances and power supplies are becoming more and more eco-friendly with the magnificent increase in innovations for sourcing power such as solar energy and electric cars. More training is being invested in turning electricians into more environmentally friendly workers. This is to keep up with the increasing demand for becoming eco-friendly. An example of this is the rise in electric cars which has created a gap in the market for electricians to learn how to install charging points in driveways.
4. Electricians are said to be the best paid
Out of all the working trades, electricians are said to be leading the race with an average salary of £30,784. Standard rates for electricians can range anywhere in between £20 an hour to £350 a day. All of which very much depends on the size of the job. Following the 'Sparkies' are plumbers in second place, then carpenters and then bricklayers. One of the reasons electricians are paid higher
than other trades is because the job they do is extremely dangerous, and for some reason, people don't want to be electrocuted during their day shift. Going by typical supply and demand, when supply is low and demand is high, there is going to be a relatively high equilibrium price in that market.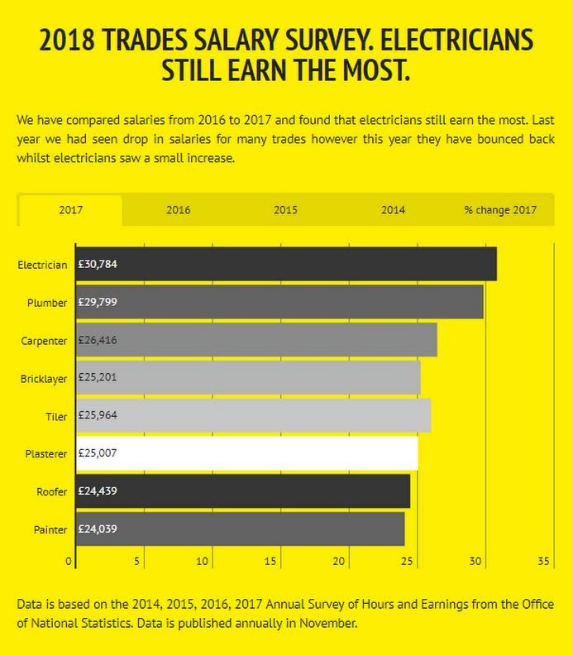 5. Electricians are safety professionals
One of the most important jobs an electrician must carry out is safety checks. Many people assume electricians just connect wires like it is a game of Lego; however, there's far more to it. People fail to see the dangerous implications of a weak wired system and the consequences of it. Because of this, there are safety regulations all electricians must follow religiously.